Description
Double K Challengair 850 Series Portable High Velocity Animal Dryer
SHIPS IN 8 WEEKS
Powerful Air Flow – motors produce up to 248 CFM • Twist On Nozzles – No More "Pop Off"
Super Tough Cross Link Polyethylene Dryer Body • Sweeps Away Excess Water
High Velocity Dryer • 2 Year Warranty
The Double K CHALLENGAIR™ 850™ High Velocity Dryer is the most effective and versatile dryer on the market. The CHALLENGAIR™ 850™ has no heating element due to the "flo‑thru" motor configuration. The air is warmed by the operational heat of the motor, which saves electricity and produces heat up to 45 degrees above room temperature.
The high velocity air in concert with the "Air Sweep" nozzle will blow the water from the animals' coat and dry them faster. The CHALLENGAIR 850™ Animal Dryer offers great versatility using the assorted nozzles for the desired effect. The stand model can function as a conventional "Fluff" dryer, forced air dryer or cage dryer at the operator's discretion.
Standard Features:
Twist‑on hoses and nozzles included in two year warranty
Powerful air volume – motors produce up to 248 cfm.
Sound damping foam lining reduces dryer noise.
Cross-link polyethylene dryer housing is easy to clean and virtually indestructible.
Easy to clean filters.
Two year limited warranty parts and labor.
Options*
"XL" model produces 15% more air volume.
Regular 2 speed or variable (dial control) speed. IMPORTANT: Do not use variable control with a power inverter system.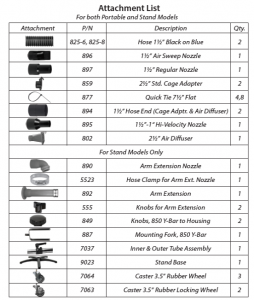 Attachment List
Attachment P/N Description Qty.
825-6, 825-8 Hose 1½" Black on Blue 2
896 1½" Air Sweep Nozzle 1
897 1½" Regular Nozzle 1
859 2½" Std. Cage Adapter 2
877 Quick Tie 7½" Flat 4,8
894 1½" Hose End (Cage Adapter & Air Diffuser) 2
895 1½"-1" Hi-Velocity Nozzle 1
802 2½" Air Diffuser 1
890 Arm Extension Nozzle 1
5523 Hose Clamp for Arm Ext. Nozzle 1
892 Arm Extension 1
555 Knobs for Arm Extension 2
849 Knobs, 850 Y-Bar to Housing 2
887 Mounting Fork, 850 Y-Bar 1
7037 Inner & Outer Tube Assembly 1
9023 Stand Base 1
7064 Caster 3.5" Rubber Wheel 3
7063 Caster 3.5" Rubber Locking Wheel 2
Contact us if you have any questions.